Overview

In the article below you'll learn:
Key Benefits of Automated Flows

How to set up the messaging experience in Community

Additional caveats of the messaging solution
Contact Community or your Community Account Manager for additional questions!


Key Benefits


TIP: As you learn more about your audience, establish the Community Keywords that will sort members into corresponding communities and allow you to help send more personalized texts in the future. Think of communities as a way to tag and organize your members after learning more about them through your Automated Sign-Up Series.
Set Up Process
Visit the Automations page and click on the Flows Tab




Click on Create New Flow to get started
Chose from the list of Templates

Currently, only Signup series is available. More options coming soon!
Editing a Flow
Using the Flow canvas, you can add Steps and Actions by dragging them from the menu on the left or clicking the (+) sign in the canvas editor.
Delays
A Delay is a a step type that will configure the amount of time to wait before triggering the next Action.
If no delay is set, the next action will be triggered immediately after the previous one.
A delay can be set for a maximum of 7 days
When a Delay step is added to your flow, options for your delay can be configured on the left side of your screen.
Using the dropdown selector, your delay can be configured in Seconds, Minutes, Hours, or Days.
Click the Save button once you have set your desired delay.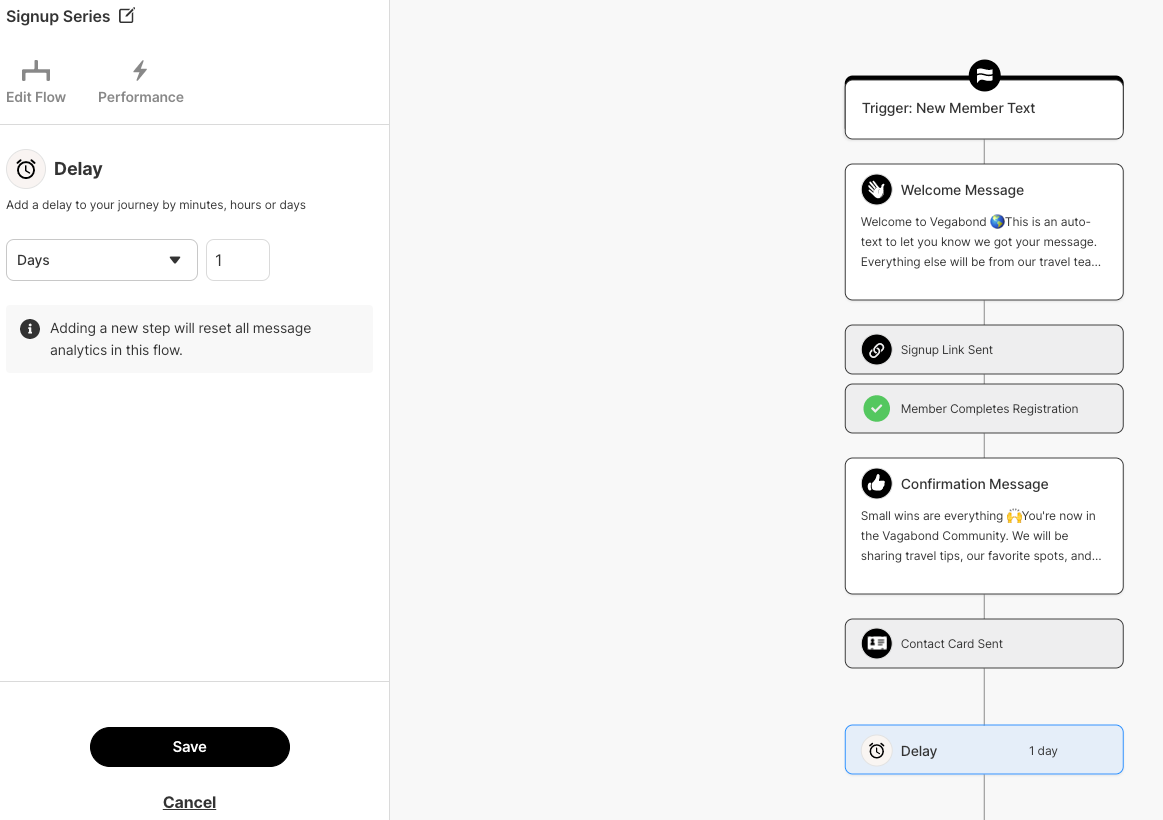 Send SMS
Send SMS is an automated Action that allows you to create a custom message to send to your customers.
By default, an SMS from your Automated Flow will not be sent during Quiet Hours. There is a checkbox below your message editor that allows you to Ignore Quiet Hours. You can read more about Quiet Hours here.
Once you've finished composing your message and choosing when it sends, click "Save".
You'll now see your new message including the delay you selected in the flow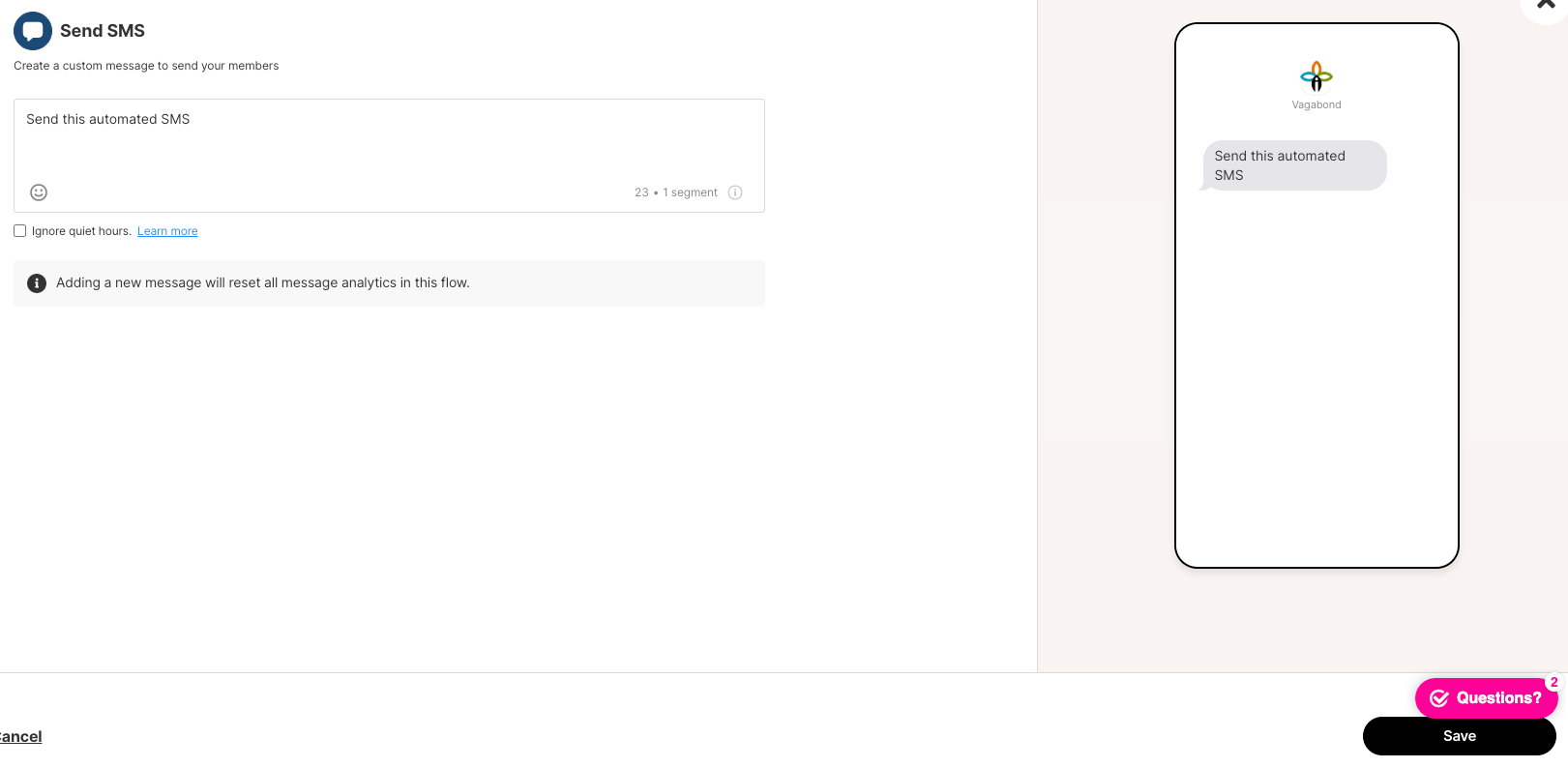 Setting Up Your Automated Signup Series
You will see the Welcome Message and Confirmation Message that you previously configured during your onboarding. Both can be updated form this screen by clicking on the 3 dots on the respective tile.
Any tiles that are grey cannot be edited or removed as they are standard steps in the flow.

Analytics
As new members text your Community number, you'll be able to track their engagement with the Series including messages sent, total unique clicks and unique click through rate.

It's important to note that both Clicks and Click Through Rate (CTR) are unique counts. This means that if a member clicks the link more than once, they will only register a single click in these metrics. (Only applies to messages sent with links)

You'll see aggregate metrics at the bottom of the screen that combine sends, clicks, and average click through rate across all 3 Sign Up Series messages.
AVG CTR is the average click through rate of all series messages with links.
Please note that editing or deleting any message in the series will reset the analytics for that whole series. This ensures that you are getting the most accurate engagement data for the current series content.
Caveats & Additions
This feature is available for any account on a usage-based plan. Talk to your Account Manager for information on upgrading your plan.
Uploading media (images, gifs, videos) is not currently available. However, if the you have a media.community.com link address from media you have previously sent, you will be able to paste that URL into a message.