Custom Member Data (CMD) allows you to upload custom data into your Community from an outside source allowing for a more personalized experience. See below for more information on CMD:
Leverage Your Own Data In Community
At Community, we know how important personalized two-way conversations are in generating business results.
Introducing our new ability to upload your custom data. This allows you to tailor your messaging based on custom fields and filters you have outside of Community.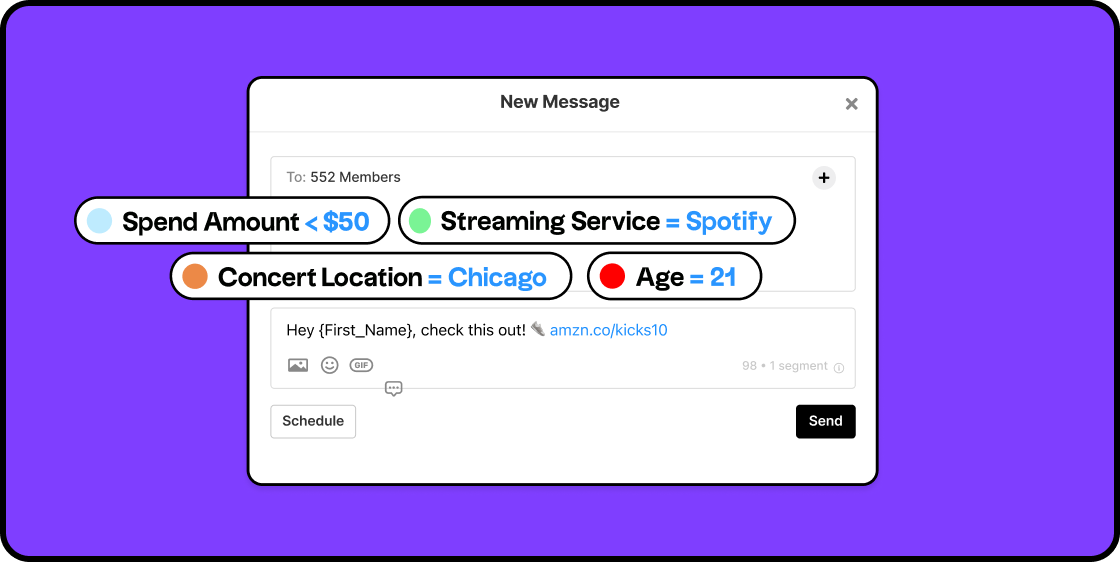 Upload your own data to Community and start texting with custom fields

Develop targeted outreach strategies by segmenting your audience by criteria

Send personalized messages that resonate better with your communities

Am I eligible to upload Custom Member Data?
Custom Member Data is available for qualified customers on our usage-based plans. Feature availability and functionality may vary by service plan. Please reach out to your Account Manager or yourfriends@community.com to see if you are eligible.
What data types are available for Custom Member Data?
Using a simple CSV, you can upload data directly to your Community Account. Simply format the .CSV file matching the data from your system to your Community Member Phone Numbers. If you have Data Exports enabled, you can now export your Community Number Phone Numbers right from the dashboard. Below are the accepted data types for your CSV:
Plain text

Date (MM/DD/YYYY)

Datetime (MM/DD/YYYY 12:34 AM)

Integer (1)

Decimal2 (12.34)

True/False
How can I upload my Members' custom data?
If you are eligible to upload Custom Member Data, navigate to Settings > Customize on the Community Web Dashboard. Look for Custom Member Data > Upload .CSV with Custom Member Data and click New Upload.
Reference this detailed walkthrough to learn more about the upload process!

If you do not see the ability to upload a .CSV, please reach out to yourfriends@community.com. Your seat may have read-only permission.
Related Resources:
View all our Add-Ons in your Dashboard
Add-Ons are available to Leaders on usage-based plans. Click the GIF below to view all Add-Ons in your dashboard or reach out to yourfriends@community.com to learn more.