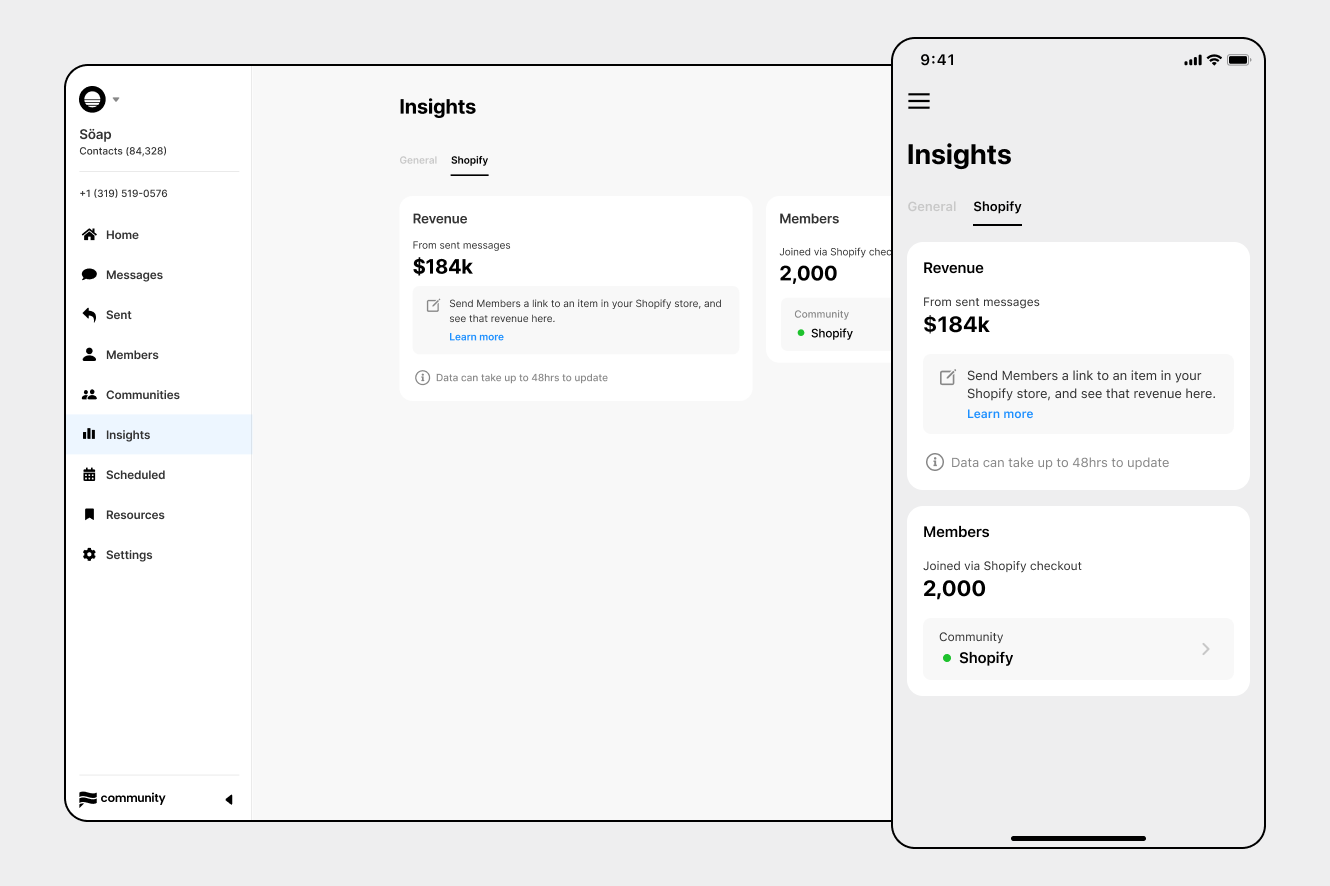 Note: this requires use of our Shopify integration. To receive an invite, click here.
With a connected Shopify store, Community can show you how much revenue you've earned from messages you send to Members.
How to see revenue from sent messages
Copy the URL of the item you want to send to your members.
Paste it into a New Message.
You'll need to copy/paste these UTM parameters onto the end of your URL


?utm_source=community.com&utm_medium=sms

Example: link.com becomes link.com?utm_source=community.com&utm_medium=sms



Send your message with the URL (containing UTM parameters above).

In your Community app, you'll see Shopify revenue from sent messages displayed* from your Insights page (look for the Shopify tab).
*Note: revenue data can take up to 48 hours to update.
These UTM parameters allow Shopify and Community to know where a Shopify customer came from (the source would be Community.com). If a Member completes a purchase, Community will then be able to show you how much Shopify revenue you've made from messages you've sent.
What are UTM parameters?
Adding UTM parameters (Urchin Tracking Module) allows you to better understand the users of your website. These parameters are simple tags added onto the end of a URL. When a visitor clicks a link with UTMs, those parameters can be tracked by your web analytics platform (i.e. Google Analytics).
There are five UTM parameters:
utm_source: Identify the advertiser, site, publication, etc. that is sending traffic to your property, for example: google, newsletter4, billboard.
utm_medium: The advertising or marketing medium, for example: cpc, banner, email newsletter.
utm_campaign: The individual campaign name, slogan, promo code, etc. for a product.
utm_term: Identify paid search keywords. If you're manually tagging paid keyword campaigns, you should also use utm_term to specify the keyword.
utm_content: Used to differentiate similar content, or links within the same ad. For example, if you have two call-to-action links within the same email message, you can use utm_content and set different values for each so you can tell which version is more effective.
We suggest you try out Google's URL builder to learn more about campaign tracking.