What is Reply 'Y'?
The Reply Y onboarding flow is a fully TCPA-compliant opt-in flow to enable ongoing 2-way communication with your audience. This flow enables anyone to opt-in by simply replying Y, and does not require additional steps or information.
Leaders are able to get members to opt-in easily within text app, using a familiar user behavior that consumers are used to with replying as consent. This removes any friction in the signup process so your members are able to connect with the brand instantly via text.
Note: Switching to Reply Y onboarding will restrict certain capabilities on Community:

Data such as Member Name, Gender Identity, Age, and Location will not be attached to contacts when using Reply Y onboarding.

You will be unable to utilize specific member attributes to filter recipients for more targeted messaging
How does it work?
The person signing up will first receive your personal Welcome Message, with the call to action to Reply Y to opt-in including required legal language. When they respond Y or Yes (case insensitive) they will automatically be opted-in to receive all future texts from your Community number. Immediately they are greeted with your personal Confirmation Message, along with required STOP/HELP language; this is the final required legal language for onboarding. Your contact card gets sent immediately after the Confirmation Message.
1. First text includes both the Leader Welcome Message (customizable) and required legal disclaimers. The required legal language always gets appended to the end of the message.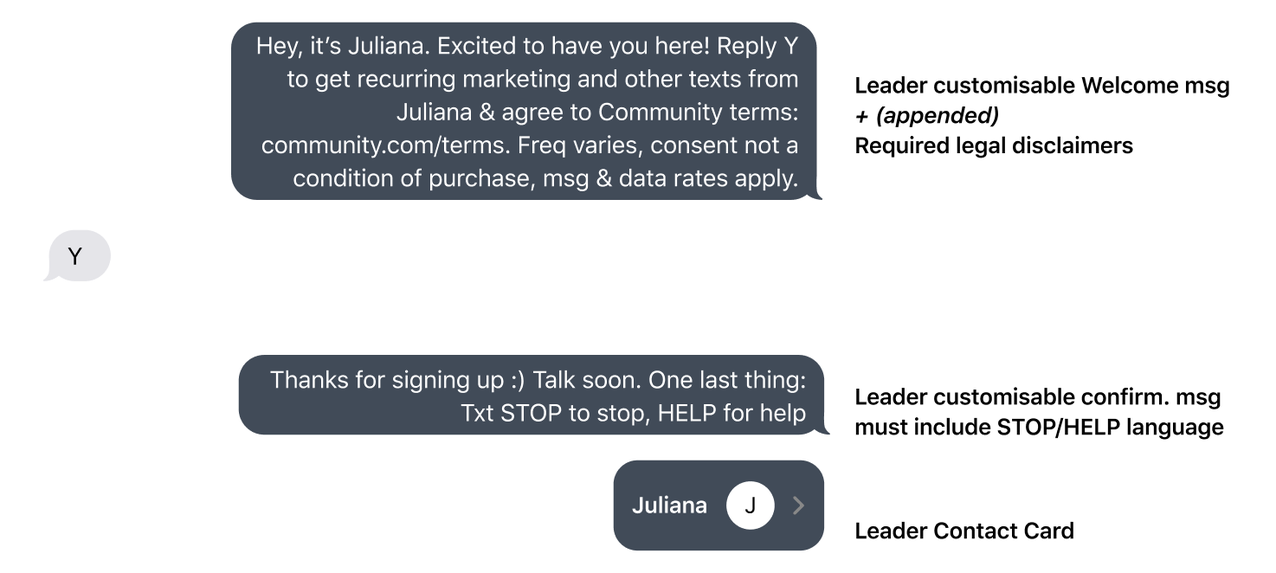 2. If a Member responds "Yes" or "Y" (case insensitive) they will be opted-if no response or anything other than yes — does not become a Member, never receives further texts.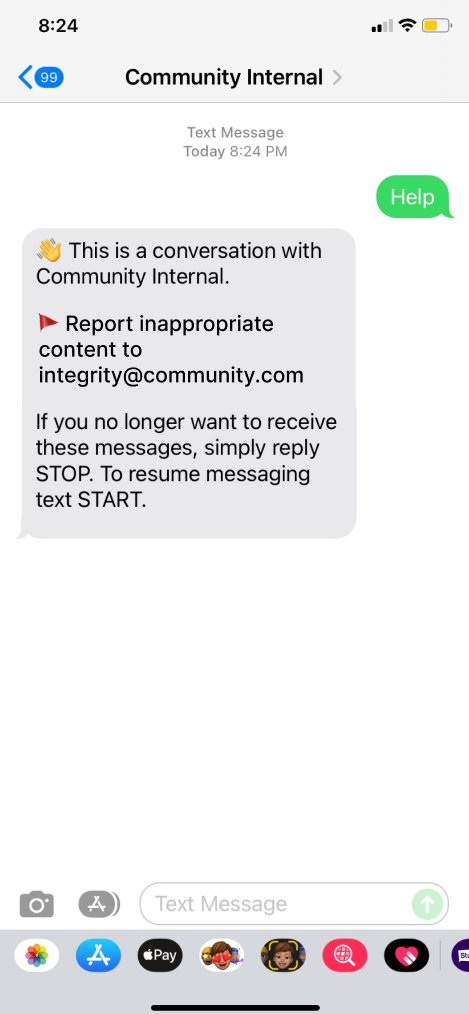 3. The next message the new Member receives is the Leader's Confirmation Message (customizable) with STOP/HELP language. STOP/HELP language will be automatically appended to the end of the message unless a you write in your own "STOP" and "HELP" language - in this case it will be detected by our system and we will not append the default text.
4. After the confirmation message, your Contact Card is sent.
How do I update my Welcome and Confirmation messages?
To update copy, send your account manager your message copy. Please make sure that suggested messages are:
Welcome Message copy: must be under 400 characters. Not including Legal Language.
Confirmation Message copy: must be under 255 characters. Including Legal Language.