Message Segments & Message Types
The recent change to usage-based billing means you will be billing for all message segments that are sent from your Community number. As a reminder, a message that you compose can include more than one message-segment. The overall length of your messages and the use of Emoji and special characters will increase the message-segment size. For more information on message segments, CLICK HERE.
Pro Tip: In general, the more Emojis you have in your messages, the more segments that message will contain.
Here is a bit more information regarding the types of messages that are included in your message segment count:

Campaign Segments: (

On average, 95% of message volume is from campaigns

)
These make up the bulk of your messages. Campaigns are the large-scale messages that you send to your Community or segments of your Community
Direct Messages

: These are any one-to-one conversations you have with people in your Community.

Member Sign Up Messages

: This is the Opt-In experience your audience will receive. This includes; (1)Welcome Message, (2)Opt-in registration link, (3)Signup Confirmation Message, and a (4)contact card file

Keep in mind that anyone who texts your number will receive the Welcome Message and Opt-In Registration link. Only the ones who complete the

Opt-In link

will receive the following Sign-Up Confirmation and Contact Card.

Automated Responses

: This will include any Keyword Responders that you have configured on your account as well as any additional sign-up messages you have created. These are both optional features that you can turn on/off.

System Messages: (On average, less than 2% of message-segments)


These are certain words that are required for TCPA compliance. This includes but is not limited to;

START,JOIN,UNSUBSCRIBE STOP, and HELP.

Each of these requires a system-generated response. These responses only contain required language and will rarely be more than one message-segment.
Managing Message-Segments
Here are a few tactics you can try to reduce the number of message-segments you are sending:
Campaign Frequency

: Think about sending campaigns less frequently. If you send daily, consider sending a weekly message.

Possibly consider a message asking members to reply with a Community Keyword, then you can send a follow up message to those who engaged with your first message.

Use more targeted audiences:

Leverage filters and/or Communities when composing your campaigns.

Use Communities to segment your audience and send members content that is most relevant to them

Reduce your segment-to-message ratio

: Reduce the number of segments for your outbound messages.

Avoid sending messages with Emojis and special characters as they increase character count and can result in more segments.

Reduce the overall number of characters used in your message, keep the content short and sweet!



Will we be able to track usage through our dashboard directly?
Yes! Visit your dashboard to track usage directly.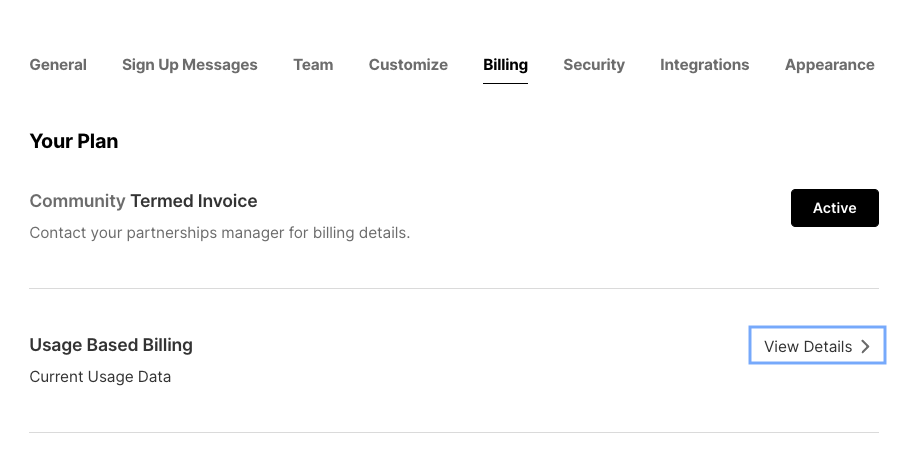 Resources: